9:30pm,   Here in the Sydney area, we've been battered by torrential rain and wind that is described as "winds as powerful as a Category 2 cyclone" for two days now.  I stayed home today because it was just about impossible to get anywhere due to the weather.  The water in the lagoon has come even with the sea wall, and if it goes any higher it'll be spilling across the lawn, heading for the house.  I estimate there's another foot of height it'd have to rise before it threatened to come into the back porch.   But the authorities are concerned about what might happen in the next 90 minutes or so.  High tide is at 10:30 pm tonight, so the lagoon off our back yard won't be able to drain into the ocean.  Manly Dam is completely full.  So if it rains hard like it is supposed to, State Emergency Services (SES) expects to call for people to evacuate!  Two policemen have already come to our door to get our personal details as part of a door-to-door advisory to all residents living next to the lagoon.  Wow, a bit of drama for us this week!  Susan and I pickled up things off the back porch floor, just in case something caused a bit of water to surge into the porch.  It's another 4″ step up from the porch into the house, and an additional 4″ to the living room.  So I'm not expecting water to get so high it invades our living space.  We'll know how bad it'll be in about an hour or so from now.  Meanwhile, look at what we've seen so far today!
'Cyclonic' storm hammering NSW set to get worse before it gets better
April 21, 2015:
Newcastle residents are on flood watch after a warning issued by the State Emergency Service (SES), while there is also an overflow threat at Manly Dam on Sydney's northern beaches after more than a day of heavy rain.
Hundreds of homes in the city's north could be at risk if the dam overflows during high tide at 10.27pm and emergency services have spent much of the night door-knocking homes that are considered a flood threat.
The SES has advised nearby residents to life furniture and any valuables off the ground and be prepared for possible flood damage. Residents are also urged not to try and ford flood waters either in vehicles or by foot.
 April 21, 2015: Three people have died as a massive storm moves across NSW, wreaking havoc.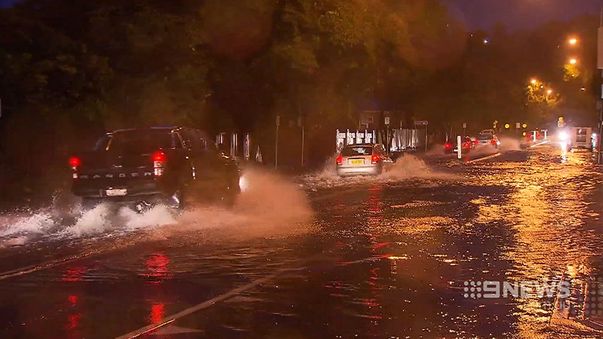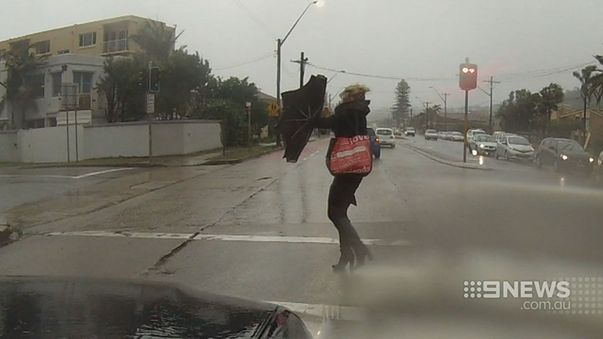 Traffic on Sydney's roads has been slowed to a crawl by the storm. (9NEWS)
Authorities have issued warnings for the following areas on the northern beaches: Riverview Pde, Palm Ave, Lakeside Circuit and some parts of Pittwater Rd at North Manly, Aitken Ave at Queenscliff [THIS IS WHERE THE SMITH FAMILY IS LIVING RIGHT NOW!], Campbell Pde at Manly Vale, and Eurobin Ave, Iluka Ave, Bonner Ave, Cameron Ave, Golf Pde and parts of Pittwater Rd.
The storm has also hindered Sydney commuters desperately trying to get home, with closed and flooded roads slowing cars to a crawl throughout the city.  Delays of up to half an hour are in play in the CBD, while more than 100 traffic lights are out across Sydney.
The floods have already claimed three lives, while a 62-year-old woman has just been pulled from floodwaters at Beresfield near Newcastle.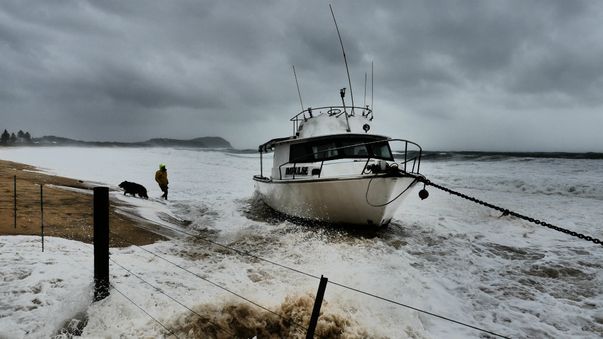 A man and his dog with a beached boat in Terrigal. (Tom Caska)
 April 21, 2015: Residents in Merewether Heights have caught the moment a massive gum tree was brought down in high winds.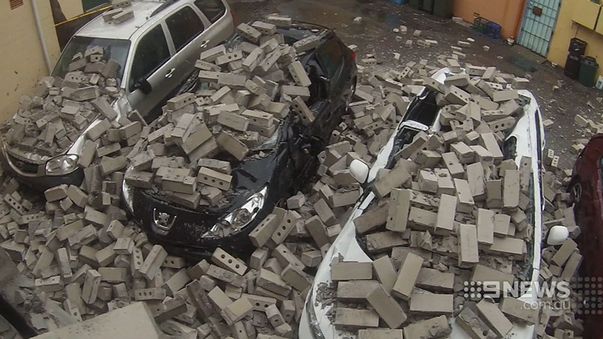 A brick wall was blown over onto some empty cars in Sydney. (9NEWS)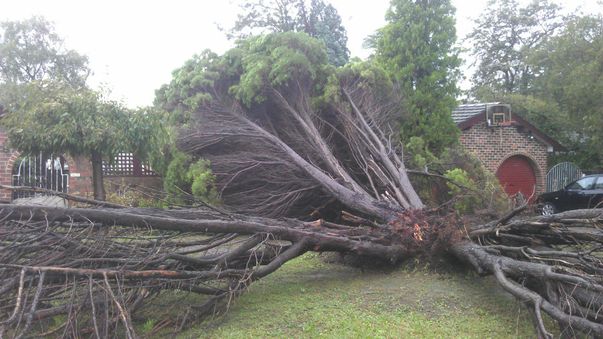 Downed trees in Castle Hill. (Jerome Wicks)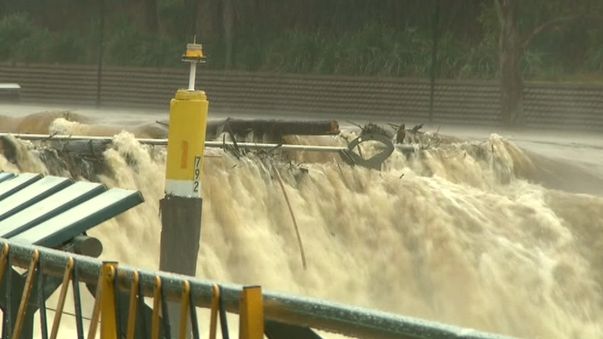 Flash flooding at Parramatta. (9NEWS)
Passengers are advised to avoid travel as there is no forecast for when services will resume, a spokesman from the Transport Management Centre said.
People have been urged to stay off the road unless absolutely necessary in all affected areas, with flash floods and high winds making travel particularly dangerous.
"Due to forecast heavy rain, residents in Newcastle and surrounding urban areas may experience flash flooding and a rapid rise and high flow velocities in local watercourses.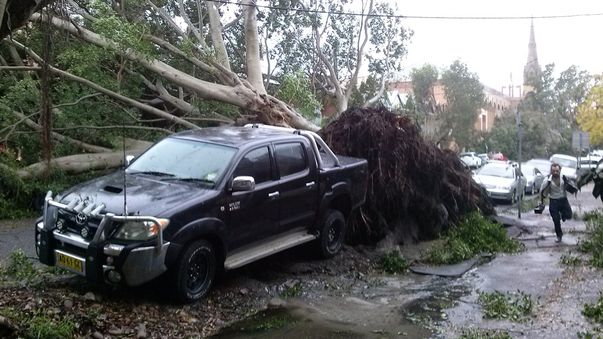 A tree has been uprooted on Laman Street at Cooks Hill.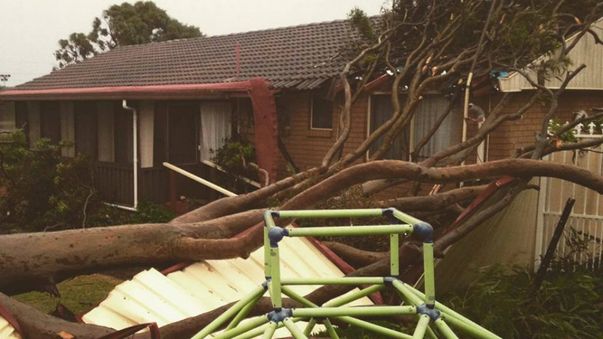 Dramatic footage has also been captured of the moment a massive gum tree was brought down by high winds in Merewether Heights.
The video shows people screaming warnings as the huge tree slowly topples down.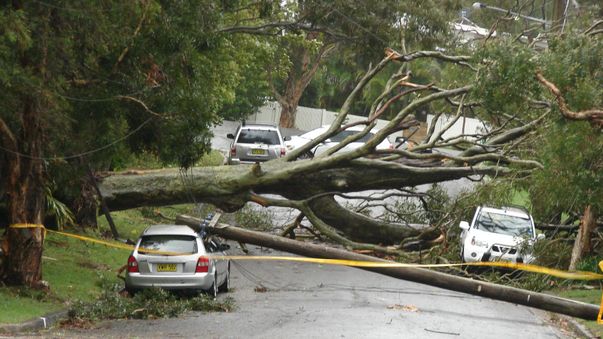 A tree is down at Avalon.
Authorities have also warned the 200,000 homes and businesses without power might not be reconnected to the grid until tomorrow.
About 100,000 of those blackouts are in the Newcastle and Hunter regions, with a further 70,000 in the Central Coast and 30,000 in Sydney.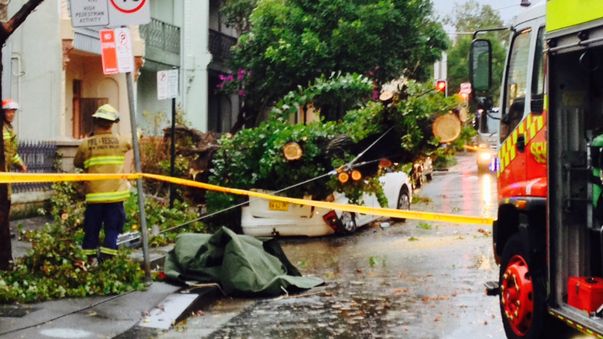 A car has been crushed by a falling tree at Redfern. (Supplied: Hayden Cook)
 NSW Premier Mike Baird earlier urged bosses to let employees leave work early, to allow them to get home while it is still daylight during a "once in a decade" weather event.
Mr Baird is asking people to be patient as emergency crews deal with life-threatening situations during the storms that are battering the state. Three people have been confirmed dead in Dungog, north-west of Newcastle.
"The weather is forecast to worsen tonight so the SES is encouraging people to head home early while it's still daylight. Stay safe everyone," Mr Baird tweeted.